Advertisements screens
Street advertising screens have now become the most popular product in the world, so in this article, we will list information about display screens to help you find the best display screens for your products.
Outdoor video advertising screens:
Outdoor advertising screens, or street advertisement, are among the most popular types of screens used in advertising, are also known as display screens because they have perfect lighting, clarity, and high quality, outdoor screens are used in public places, squares, bridges, and higher. Residential buildings, entertainment places such as malls and clubs
You can use the out-door screens, either through the text display, "through which the advertisement appears in the form of animated text. This method is usually used in restaurants or malls, as well as on the screens displaying results in matches."
As for the second method, the advertisement appears by displaying the videos directly, whether recorded video or live broadcast, and this method is used in live broadcasts of matches, television programs, news presentation, or inside cinemas.
Display screen displays
Display screens have many uses in many places, whether public or private, and they are greatly utilized in hospitals, pharmacies, and medical centers, and through them are promoted for shops and malls, and are also used in banks, hotels, theaters, nightclubs, wedding halls, learning, training and conference halls. It greatly facilitates the process of presenting content to the target audience, as it works to display videos, images, and texts to attract viewers to the content you provide and help you turn the viewer into a customer who requests your service or the product you are promoting.
Facilitating the learning process, as it is used to display educational and training skills.
It is used to provide offers and discounts quickly, to reach the target audience in the least possible time.
Used in banquet halls and celebrations to display pictures and welcoming texts.
It is used to display valuable information especially in the field of medicine.
Used in broadcasting concerts, matches, and conferences, whether they are recordings or live broadcasts.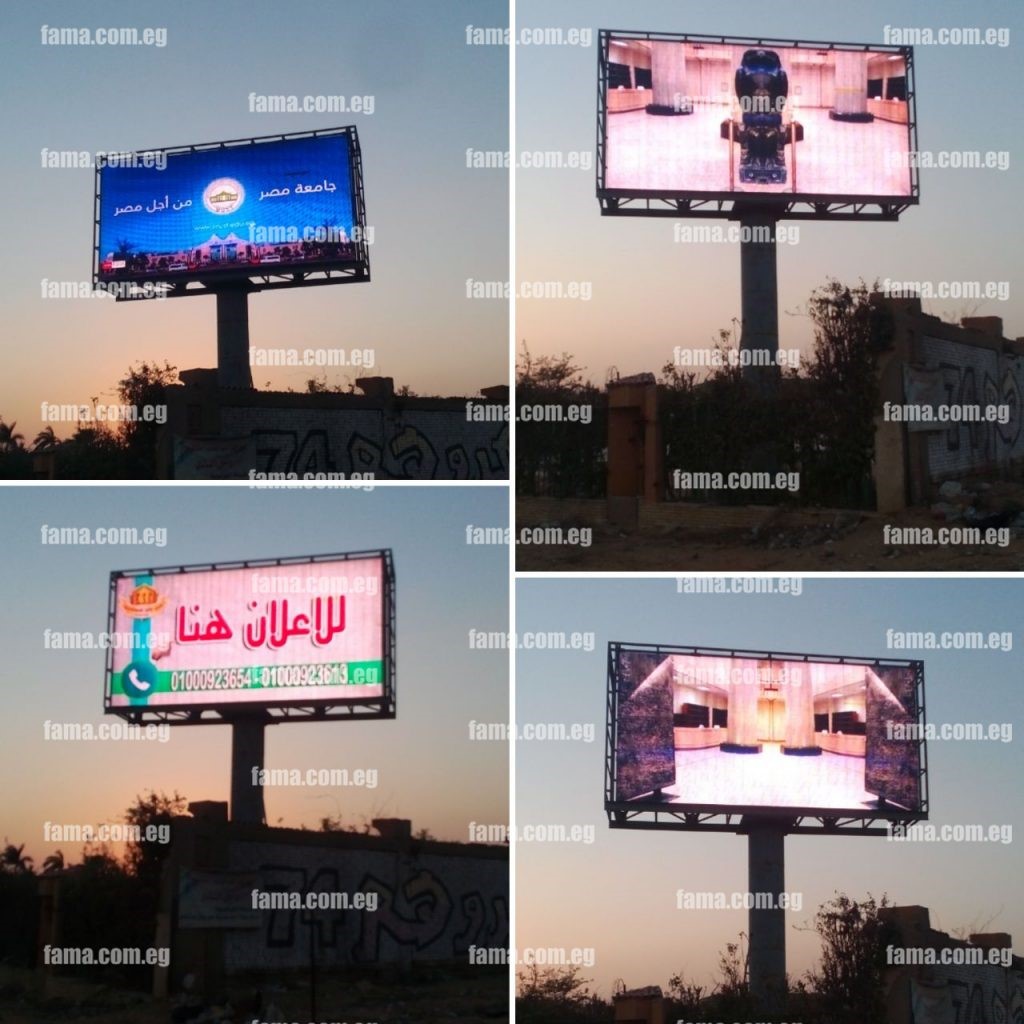 Companies selling electronic advertising screens in Egypt
To sell or rent electronic advertising screens in Egypt, you can communicate with Fama for display screens that depend on accuracy in dealing, with professionalism in installation and manufacture, and therefore FAMA display screens are considered one of the best advertising screens in Egypt and used all over the world. Fama has implemented more From 3,000 projection screens across the country, we are distinguished by perfect quality, economical prices, suitable for all services, we are distinguished by the experience that makes us know well how to display your service in an ideal way on the latest advertising display screens, which are only available at FAMA.
FAMA has the latest LED models, and the finest electronic parts, specially manufactured for FAMA. We have obtained American and European certificates, and we provide you with a two-year guarantee, with periodic maintenance performed by specialized engineers and certified consultants.
Fama, a company specialized in the manufacture, supply, installation, and operation of display screens, in addition to designing and maintaining its advertisements and programs, with us you will get the finest materials for screens that are internationally approved with quality and manufacturing certificates.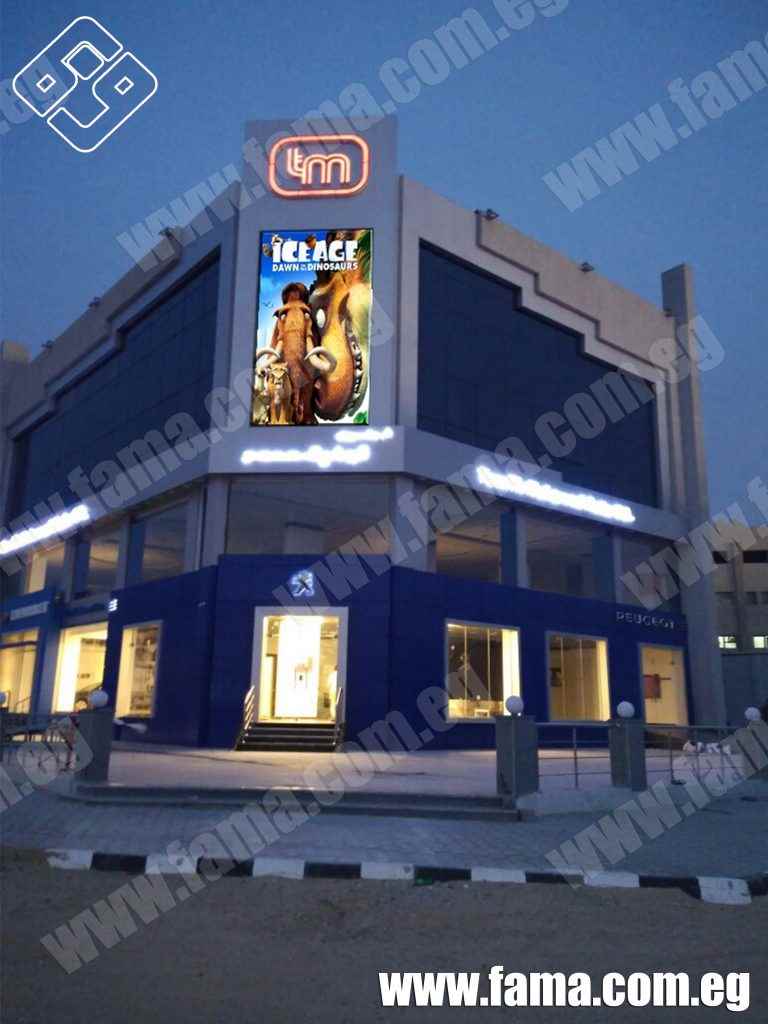 Features of the LED screen screens from FAMA company.
It provides true colors with high brightness, as it distinguishes the displayed content and gives a unique look.
Control the sizes of the LED screen screens, as they are designed by FAMA in all different sizes.
Control the number of colors that appear in the display.
Easy to control image resolution and brightness to suit the viewing distance.
You can control the displayed content, especially text content. You can format and change the font type and whatever you want.
You can broadcast any video, whether it is live broadcast or recorded video.
Easy to install and install LED screen screens on floors, walls, and facades.
Available in unlimited sizes, shapes, and colors, and you can design the screen to suit your needs.
You can store your video or content on the screen.
LED screen screens have a powerful and distinctive video processor.
The ability to remotely control the screen and control the display of content at specific hours and days.
You can now contact FAMA to buy or rent the displays.